Call of Duty: Black Ops 4 akan dirilis pada bulan Oktober 2018 ini, dan isu yang mengejutkan soal perilisan franchise legendaris ini adalah, bahwa Black Ops 4 tidak akan lagi memberikan fitur Story Mode atau dengan kata lain Single Player, sehingga menjadikan game ini akan murni menjadi sebuah game multiplayer kedepannya.
Saat dikonfirmasi soal kabar berita ini, Activision selaku publisher menyatakan mereka tidak mau berkomentar soal rumor yang beredar, dan menyatakan mereka akan memberikan bocoran atau pengumuman soal Black Ops 4 pada bulan May 2018 nanti.
Rumor soal tidak adanya lagi Single Player atau Story Mode pada Black Ops 4 memang bisa dibilang memiliki kemungkinan yang besar sekali, karena belakangan ini Black Ops series sudah menjadi salah satu game yang memiliki massa yang cukup banyak, bahkan setiap adanya turnamen atau pertandingan, COD: Black Ops mampu mengumpulkan banyak partisipan dan team e-sport untuk bertanding. Bahkan terlihat juga Activision secara konsistem terus menggarap konten Multiplyarenya dan juga Zombie Mode yang populer di gamenya, Rumor ini semakin dipercaya dengan konsistennya Activision dalam membangun komunitas multiplayernya, sehingga sangat memungkinkan bahwa Black Ops 3 kemarin menjadi akhir dari era single player Call Of Duty: Black Ops series.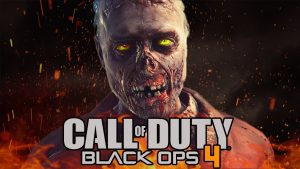 Menurut saya pribadi seharusnya COD jangan membawa judul Black Ops 4 pada sequel kali ini jika tidak membawa fitur Story Mode, karena akan terkesan seperti melanjutkan sebuah perjalanan franchise Black Ops sebelumnya, seharusnya Activision bisa menamakan gamenya dengan nama Black Ops Online atau nama lainnya, agar memang identitasnya jelas bahwa game ini memang hanya untuk multiplayer. Amat disayangkan sebuah franchise yang selalu memberikan storyline yang menarik dan selalu menjadi daya tarik para penyuka Story Mode harus dibuat kecewa dengan kemunculan rumor ini dan harus melupakan antusias mereka terhadap cerita yang akan dibawa oleh Black Ops terbaru.
Kesimpulannya, rumor ini bisa saja terjadi karena tanggal perilisan yang cukup dekat, yang menurut saya cukup prematur sebuah game bisa dirilis dalam waktu dekat jika memuat fitur storyline, jadi kepercayaan saya adalah Black Ops 4 tidak lagi akan membawa story mode pada game terbarunya nanti, dan kalian para pecinta story mode Black Ops series mulai bisa mencari alternatif lain seperti menunggu pengumuman Modern Warfare 2 Remastered misalnya.
Tapi tentunya kita akan menunggu kepastian soal rumor ini nanti pada pengumumannya di bulan Mei 2018. Gimana menurut kalian? apakah rumor ini akan menjadi kenyataan? atau hanya sebuah hype yang dibangun oleh sang publisher?