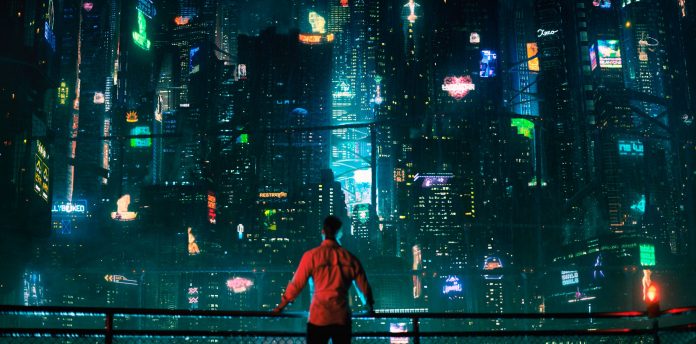 Pernah kebayang gimana jadinya kalo Blade Runner atau Ghost In The Shell dijadikan sebuah tv series yang dimainkan oleh manusia nyata? WAIT NO MORE karena sebuah tv series terbaru dari Netflix yaitu Altered Carbon berhasil mencetak sejarah sebagai sebuah tv series pertama mengangkat tema cyberpunk ala Blade Runner/ Ghost in The Shell.
Bersetting di masa depan dimana teknologi sudah mampu memindahkan kesadaran manusia, di masa depan manusia dapat hidup selama apapun atau menjadi siapapun yang mereka ingingkan selagi kita punya uang. Berfokus pada karakter utamanya Takeshi Kovach (Joel Kinnaman) seorang prajurit hebat yang diincar banyak orang. Takeshi sendiri telah dipenjara (kesadarannya) selama puluhan tahun hingga suatu hari ia dihidupkan kembali dalam tubuh baru demi mengusut sebuah kasut pembunuhan konglomerat bernama Laurens Bancroft (James Purefoy).
Bertemakan misteri dimana penonton akan diajak untuk memecahkan sebuah misteri pembunuhan, pastinya lo bakalan langsung hooked saat menonton film ini. Bukan hanya dari segi misterinya, set-ups yang disajikan disini juga bener-bener gila banget dan keliatan mahalnya. Terlihat ambisi besar dari Netflix yang memang ingin banget untuk menandingi HBO.
Meski di akhir gw rasa series ini terasa amat klise, gw bilang Altered Carbon menjadi sebuah tv series yang menghadirkan banyak keseruan dari mulai drama, romansa, dan pastinya aksinya yang begitu dipamerkan. Gak sedikit adegan bela diri yang ada disini dan juga dimainkan oleh para aktor yang begitu berbakat.
Seluruh cast dan pemain pendukung memang amat memberikan kesan tersendiri dan berhasil menjadikan Altered Carbon sebagai salah satu drama tv yang WAJIB untuk kalian saksikan di awal tahun 2018 ini. Nah siapa disini yang punya Netflix? pastinya kalian harus langsung nonton aja tv series dengan 10 episode ini dan jangan lupa tinggalin komen kalian nanti.
Dijamin Altered Carbon akan menjadi tv series yang akan memberikan sebuah kesan tersendiri buat kalian yang amat suka dengan cyberpunk serta dark movies atau action movies mungkin.