Rich Brian hari ini mengeluarkan lagu baru berjudul "History", dimana di hari Jumat besok tanggal 20 Juli 2018, debut project dari 88Rising yaitu bertajuk "Head In The Clouds". Munculnya lagu "History" juga sebagai salah satu janji yang diberikan Rich Brian untuk penontonnya, karena Rich Brian sempat me-mention bahwa dirinya akan mengeluarkan single terbarunya sebelum debut project "Head In The Clouds" yang terdiri dari Rich Brian, Keith Ape, "Pink Guy" Joji, August08, NIKI, dan Higher Brothers.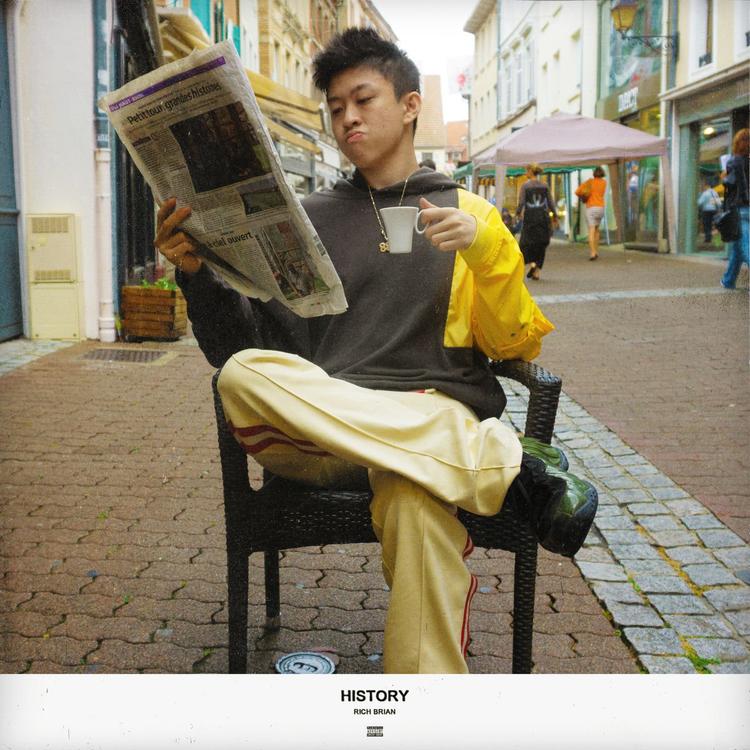 Representasi Lirik 
We got history
Got me feeling the nostalgia
When you look at me (look at me)
Thinking 'bout what could have happened
Or what could've been
Verse 1-
Put my feelings all aside
Don't know how to make it right
Pictures popping on my mind
All of these occasions
Let's work it out with me
I don't think it hurts to give another try on it
Ain't nobody here know you like I do
Ask all your friends if they know 'bout your size of shoes
How you like to cry, when you laugh, when you off the booze
I moved on but I still remember a thing or two
Lagu Rich Brian "History" merepresentasikan dari kehidupan dirinya dengan pasangan-nya pada jaman dulu, dan di lirik yang dia ungkapkan juga terlihat dimana Brian masih mempunyai ikatan dan ada "History" yang tertinggal di dirinya hingga saat ini dengan pasangannya dahulu.
Menurut saya 88Rising membentuk tim production house atau perusahaan digital media yang mempopulerkan budaya Asia ini cenderung mempunyai lagu retro atau mengambil tema retro dari lantunan musik atau aransemen lagunya. Bisa dilihat dari single terbaru dari Rich Brian bertajuk "History" ini serta "Midsummer Madness" (single "Head In The Clouds" yang muncul dibulan lalu).Untuk music video dari single "History" ini cukup unik dan aneh dimana jika kalian melihat lebih dalam, kumpulan dari animasi film kartun hingga film series hingga film layar lebar semua tercantum dalam video musik ini, dan adegan yang diambil semua tentang sebuah hubungan percintaan, dari Adegan ciuman hingga adegan salah paham dan iri dengan pasangan orang lain.
Well, cukup unik kan ? Menurut kalian bagaimana lagu terbaru dari Rich Brian?