Taiko no Tatsujin: Drum 'n' Fun dipastikan akan dirilis di luar Jepang, yang berarti seluruh fans game ini bisa segera menikmatinya pada Nintendo Switch mereka ! Game ini dijadwalkan akan dirilis pada tanggal 2 November 2018 mendatang. Bandai Namco sudah mengkonfirmasi bahwa game ini akan dirilis dalam bentuk fisik maupun digital pada pemain di luar Jepang, bahkan Bandai Namco juga akan menjual physical drum set untuk memiliki pengalaman maksimal dalam bermain game ini.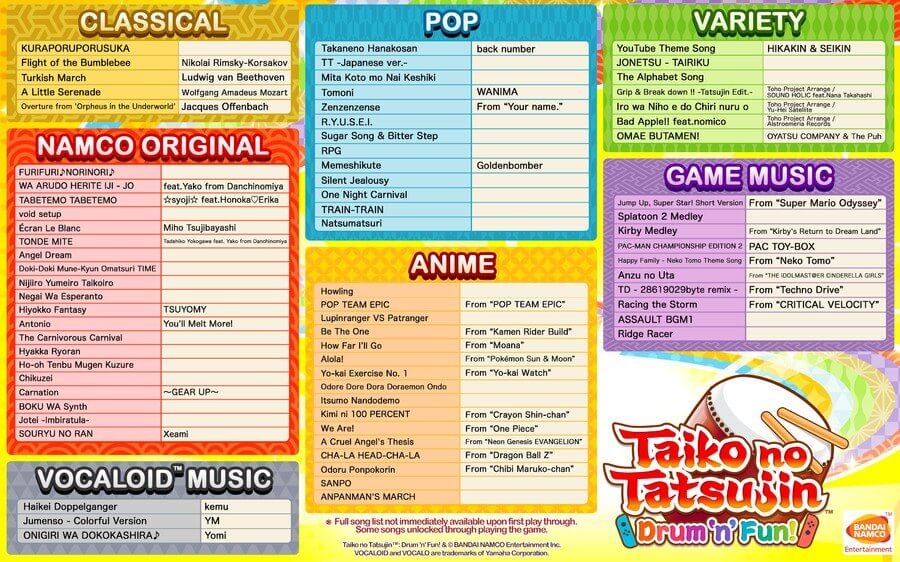 Bandai Namco juga merilis sebuah foto yang menunjukkan beberapa musik pada game ini yang terdari dari OST Game Nintendo seperti Kirby, Splatoon 2, Mario Odyssey selain itu terdapat juga beberapa lagu classical seperti Flight of the Bumblebee dan Turkish March. Tapi yang paling mencuri perhatian gue adalah pada section anime ada lagu Be The One dari seri Kamen Rider Build !
Walaupun list lagu yang ditawarkan cukup menarik, jika tidak ada update berkala maka gue rasa game ini tidak terlalu worth to buy, karena kalau sudah bosan dan hafal dengan patternya mungkin tidak ada lagi yang bisa dilakukan pada game ini selain show off ke orang lain saat memainkan game ini.