Final Fantasy VII Remake adalah game pertama yang diumumkan oleh Square Enix pada saat press confrence tadi pagi, dimana detail yang diberikan oleh Square Enix berfokus kepada mekanisme pertarungan. Mekanisme Petarungan dari game ini dijelaskan oleh Yoshinori Kitase selaku produser FF VII remake dan Neal Pabon selaku Senior Manager Product Marketing.
Dalam mekanisme pertarungan Final Fantasy VII memakai sistem Turn Base RPG dan berubah menjadi Action RPG. Action RPG yang ditawarkan Final Fantasy VII Remake kali ini akan mengambil konsep hack and slash serta adanya ATB Wait atau Active Time Battle Wait. ATB Wait ini adalah tactical mode yang bisa kita gunakan ketika ATB Wait Meter kita sudah penuh, seketika kita dapat menghentikan waktu dan dapat menggunakan Spells, Ability ataupun Items. ATB Wait rasanya akan terasa tidak asing bagi kalian yang sudah memainkan Final Fantasi XV dimana yang kita tahu yaitu Wait Mode, hanya perbedaan ATB Wait ini diimplementasikan langsung kedalam mekanisme pertarungan tanpa merubah combat setting kita. ATB Wait meter bertambah seiring kita melontarkan serangan ataupun bertahan.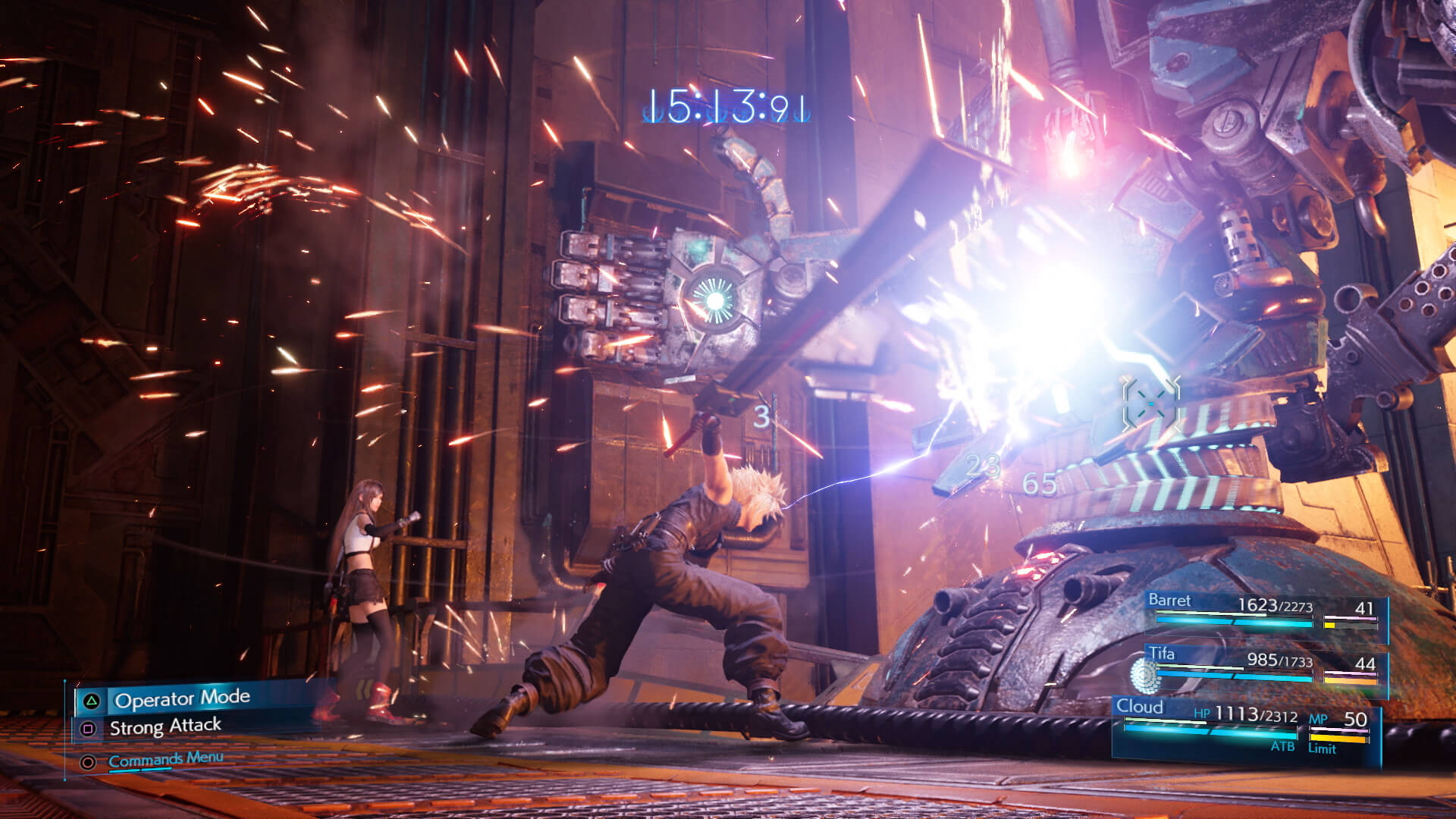 Berbicara tentang mekanisme pertarungan, Final Fantasy VII Remake ini tidak hanya sekedar hack and slash, tetapi kita sebagai pemain akan dipaksa untuk menghindari maupun berlindung di suatu tempat ketika melawan Bos. Penggunaan ruang gerak ketika melawan Boss Fighting maupun melawan musuh biasa masih belum ada kejelasan, dimana kita bisa berlari ataupun akan dibatasi di suatu ruang tertentu.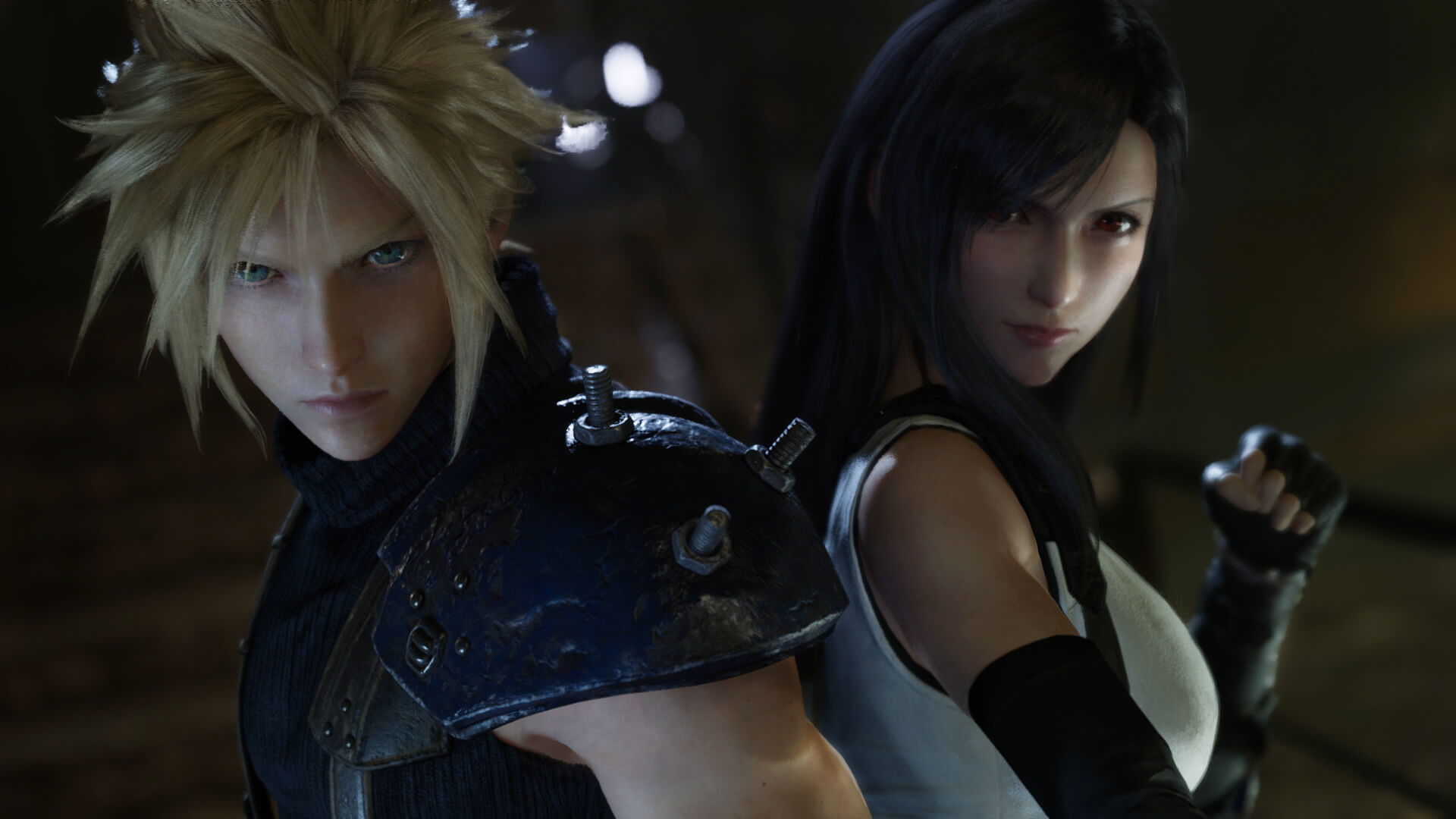 Final Fantasy VII Remake juga memberikan playable character selain Cloud seperti Barret, Aerith maupun Tifa. Pergantian setiap karakter ke karakter lain menjadikan kita sebagai pemain akan jauh lebih taktis dan tidak asal tebas. Ada dimana kita harus berlindung disuatu tempat dengan memulihkan health bar, dan ada saatnya kita memberikan serangan penuh ke arah musuh. Hanya saja terkadang ada delay setiap perpindahan dari karakter satu ke karakter lain. Animasi menyerang yang terlihat juga terkesan monoton karena memuat gerakan yang sama dan diulang terus menerus. Masih tidak tahu untuk detail dari setiap pergerakan, apakah ada gerakan tambahan atau combo button lainnya.
Berbicara soal Desain karakter menurut saya cukup apik dan sesuai dengan porsinya. Penambahan detail yang jauh lebih pas dan solid. Setiap karakter yang kita lihat di trailer maupun gameplay terasa pernah kita jumpai dimasa lalu di Final Fantasy VII. Desain karakter yang apik pastinya juga mempunyai desain tempat yang bagus juga. Kota Midgar tergambar sangatlah luas di trailer diatas, hanya saja belum ada keterangan detail dari Square Enix tentang ekplorasi setiap sudut kota akan bagaimana.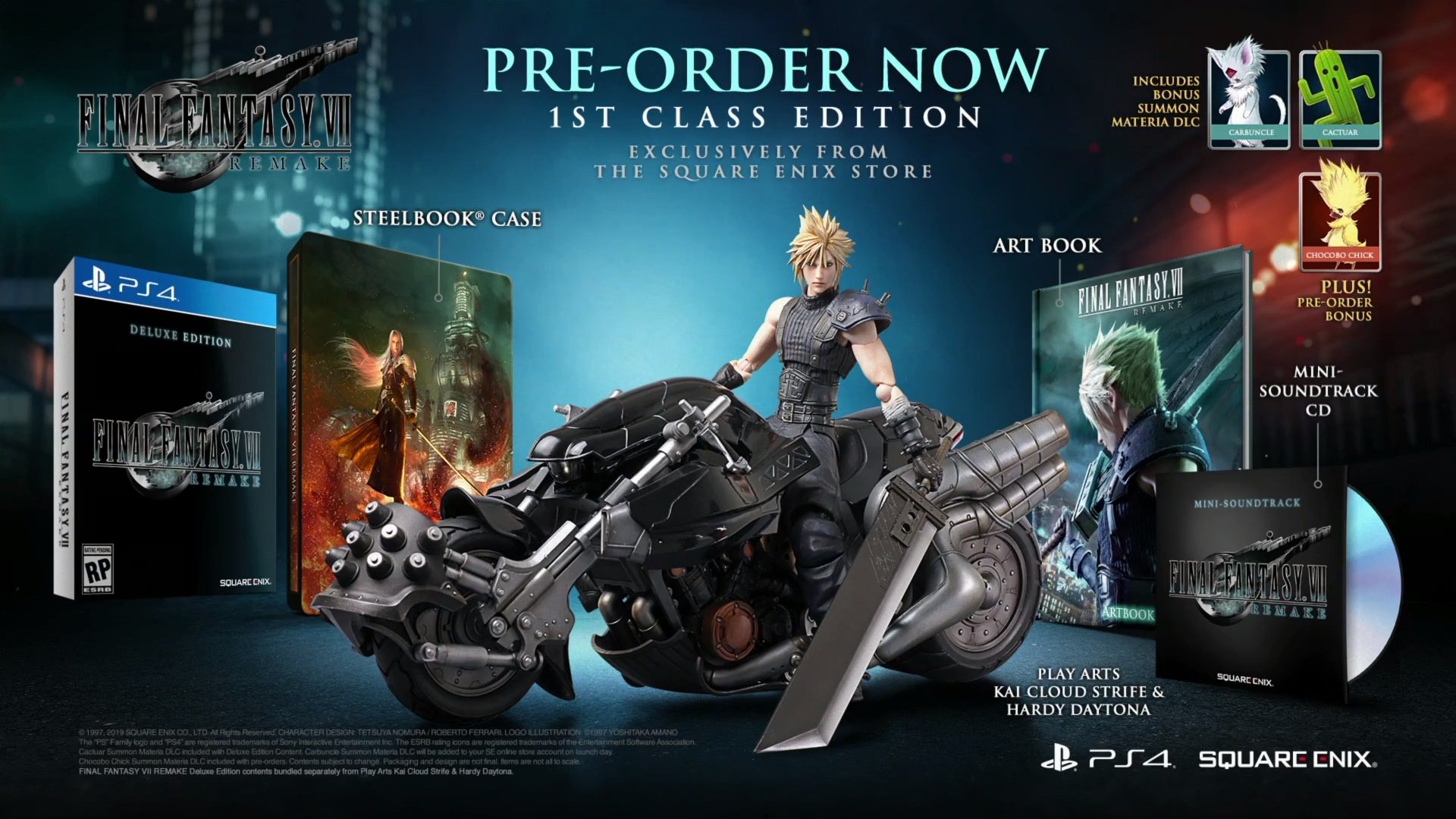 Final Fantasy VII Remake ini akan terbagi menjadi 3 versi yaitu Standart Edition $60, Deluxe Edition $80, dan 1st Class Edition $330. Deluxe Edition dari Final Fantasy VII Remake ini akan mendapatkan Artbook, mini soundtrack CD, Cactuar Summon Materia DLC, dan Special Steelbook bergambar Sephiroth. Sementara untuk versi 1st Class Editionnya, kalian akan mendapatkan hal yang serupa dari Deluxe Edition serta figur Play Arts Kai Cloud Strife lengkap dengan motor serta Buster Sword. Bagi kalian yang ingin pre-order, kalian akan mendapatkan edisi spesial Chocobo Stick Summon Materia DLC saat rilis game nya di tanggal 3 Maret 2020.
Game ini untuk sementara waktu juga hanya tersedia di Playstation 4 saja dan masih belum ada keterangan akan masuk ke PC atau tidak. So.. ditunggu saja update selanjutnya.