Developer Indie Martha Is Dead, sebuah game horror yang mengusung genre Psychological Horror dengan visual yang realistis, LKA dan juga publisher Wired Productions, memberikan pernyataan mereka melalui kanal Twitter tentang update terbaru mereka yang menyensor dan memodifikasi sebuah adegan yang terkesan gore di platform Playstation. Tentunya hal ini memicu reaksi yang beragam dari banyak penggemar game horror maupun penggemar game di platform Playstation.
Scene Gameplay yang Menjadi Viral
(TRIGGER WARNING)
Scene yang akhirnya memicu perdebatan dan membuat Playstation ambil tangan untuk menyensor adegan dari game ini adalah dimana dalam first-person view, ditunjukan karakter utama yang sedang memotong wajah dari seorang mayat perempuan dan menggunakan potongan wajah tersebut untuk melanjutkan ke scene berikutnya. Hal ini pun harus dilakukan manual oleh pemain sehingga muncul perdebatan apakah hal ini perlu dan wajar untuk dimasukan kedalam game.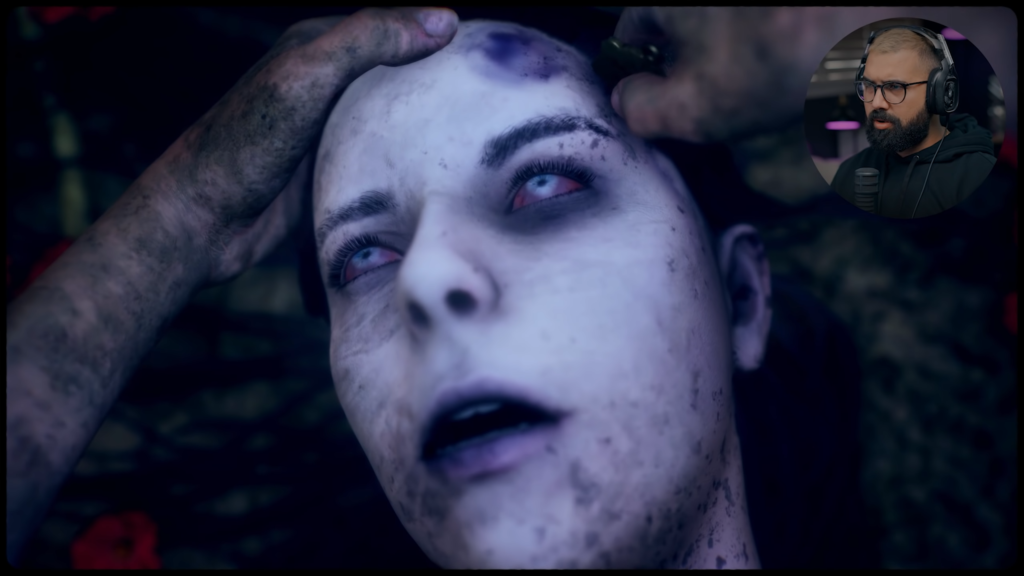 Pro dan Kontra: Keputusan Playstation Yang Terkesan Hipokrit
Walaupun hal ini tidak mempengaruhi perilisan game di tanggal 24 Februari 2022 untuk PC dan juga Xbox, perilisan untuk Playstation pun akhirnya harus ditunda. Developer LKA pun diharuskan untuk memodifikasi adegan ini secara mendadak setelah 4 tahun proses development yang cukup lama. Banyak penggemar game horror yang merasa sangat kecewa dengan keputusan yang diambil Playstation karena game Martha is Dead sendiri sangat menarik dan meyakinkan dari gameplay demo yang sudah banyak dimainkan oleh beberapa Youtuber game.
Alasan kenapa Playstation mengambil keputusan ini belum memiliki alasan yang resmi, membuat banyak penggemar game Martha is Dead menganggap Playstation terkesan hipokrit dalam mengambil keputusan. Pengguna twitter @OrdinaryGamers menyatakan bahwa game seperti Last of Us 2 pun memiliki banyak adegan seksual dan gore yang tidak disensor oleh Playstation. Banyak protes yang disampaikan karena LKA merupakan developer Indie dan Naughty Dog merupakan developer AAA yang memang dinaungi oleh Playstation sendiri.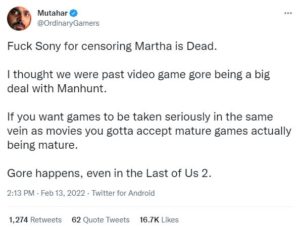 Namun banyak juga penggemar platform Playstation yang setuju dengan keputusan ini karena adegan tersebut cukup membuat banyak pemain kurang nyaman karena mereka harus menyelesaikan adegan tersebut sebelum melanjutkan ke scene berikutnya.
Wired Productions: Martha is Dead Hanya Untuk Pemain Dewasa!
Wired productions pun telah menyatakan bahwa game ini hanya ditujukan untuk pemain dewasa dikarenakan banyak adegan gore yang akan ditampilkan di game tersebut. Pernyataan ini pun sudah disampaikan sebelum keputusan Sony untuk menunda perilisan game ini. Rating untuk game Martha is Dead ini pun adalah M, dimana terdapat violence, blood and gore, sexual themes, partial nudity, dan strong language.
Martha Is Dead berlatar di tahun 1944 di Tuscany, berdekatan dengan berakhirnya WWII. Seorang wanita bernama Martha dibunuh di sebuah danau dan ditemukan oleh saudara kembarnya, kita sebagai pemain utama. Ia pun berpura-pura menjadi Martha untuk mengetahui alasan kematiannya.