Samsung Galaxy M30 yang merupakan salah satu varian entry level dari Samsung Galaxy M Series akan rilis pada 27 Februari 2019 ini dan sudah di konfirmasi melalui twitter Samsung India.
Time to get powered like never before!
Introducing the new Galaxy M30 with 3X power. #IM3XPOWERD
Unveiling on 27th Feb.
Are you ready? pic.twitter.com/Ff2nsgJ8rV

— Samsung Mobile India (@SamsungMobileIN) February 16, 2019
Sebelumnya juga Samsung telah merilis skematik dari Samsung Galaxy M30. Pada skema tersebut juga dapat dilihat berapa dimensi dari smartphone ini. Berbeda dengan Galaxy M20 yang menggunakan dual kamera pada bagain belakang maka pada Galaxy M30 akan digunakan tiga kombinasi kamera dengan spesifikasi 13MP+5MP+5MP. Sementara untuk sisi depan kamera selfie yang digunakan sebesar 16MP.
Untuk SoC yang digunakan Samsung masih menggunakan SoC yang sama pada Galaxy M20 yaitu Exynos 7904 dengan 6GB RAM dan 128GB Internal Storage. Sama dengan SoC-nya kapasitas baterai yang digunakan juga sebesar 5000 mAh.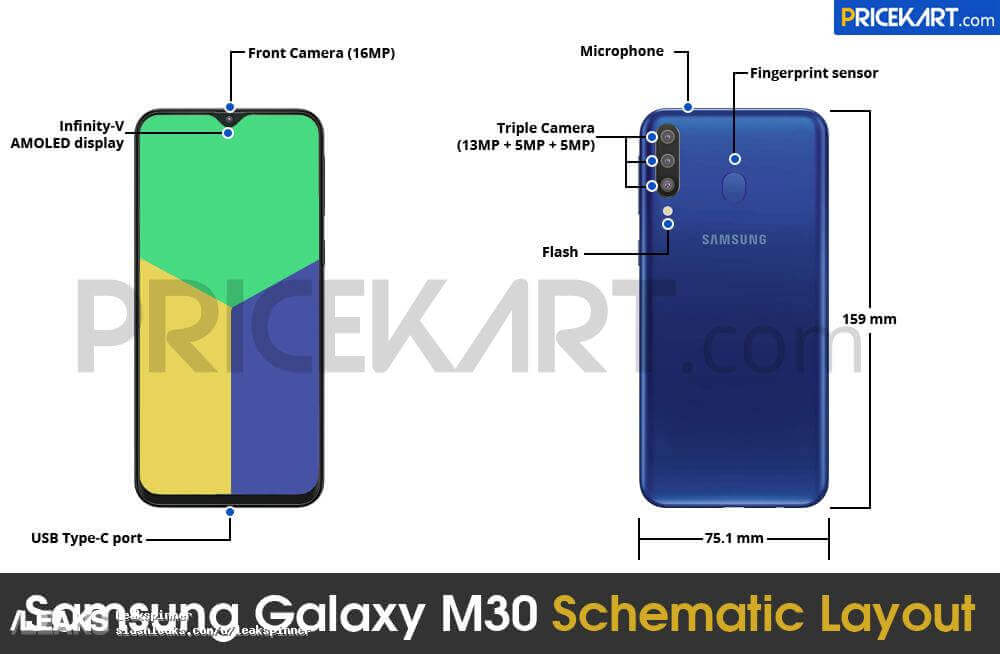 Sementara untuk Harga dari Samsung Galaxy M30 ini belum ada info pastinya. Tapi bocoran dari sebuah website kemungkinan harga smartphone series M dari Samsung ini sekitar 210 USD atau sekitar 2.9 jutaan jika di Rupiahkan dan itu untuk versi varian terendah.
Selisih yang cukup jauh ya jika dibandingkan dengan versi terendah jika dibandingkan dengan Galaxy M20 dengan harga 2.1 juta dengan Galaxy M30 2.9 juta. Jika dibandingkan harga di India dengan di Indonesia yang selisih hampir 600 ribu Rupiah kemungkinan harga Galaxy M30 bisa mencapai 3.5 juta Rupiah.
Dengan harga 3.5 juta Rupiah untuk sebuah smartphone dengan Exynos 7904 sih masih tergolong mahal yah dan masih ada merek lainya yang bisa menjadi alternatif dengan SoC yang lebih baik tentunya. Tapi semuanya balik ke preferensi masing-masing yah.