Kemenangan OG pada Ti9 kemarin menjadi sejarah baru di dunia competitive Dota 2. Dengan begitu, tim ini mencetak sejarah dengan memenangkan Ti dua kali berturut-turut atau "The Back To Back TI Champions". Perayaan tersebut pun menyebar ke seluruh fans yang ada di dunia. Bagaimana reaksinya ? Berikut adalah salah satu reaksi unik dari fans OG 'garis keras' atas kemenangan OG tersebut.
Hal ini datang dari negara Filipina. Setelah kesuksesan N0tail dan kawan-kawan pada Ti9, seorang fans asal Filipina ini nampaknya merayakan kemenangan tim tercintanya dengan cara yang lain. Fans ini memasang sebuah  papan iklan besar dengan wajah seluruh pemain di atasnya.
Sometimes a guy messages you with a pretty crazy idea … then actually goes through with it — Only in the Philippines. #TI9 #Dota2 pic.twitter.com/hAarCzJxRD

— Wykrhm Reddy (@wykrhm) August 28, 2019
Fans ini diketahui memiliki nama Chu Julia, ia tinggal di daerah Naga, Filipina. Sebelumnya Chu Julia sempat meminta izin kepada Wykrhm Reddy untuk memasangnya pada sebuah papan iklan. "Yo sir wyk, can I use this layout?" "I'm planning to rent a billboard." Ucap Julia kepada Wykrhm Reddy. Melalui akun twitter pribadinya, Wykrhm Reddy membagikan bahwa ia pun binggung ketika Julia menanyakan hal tersebut dan ia hanya bisa mengatakan "iya".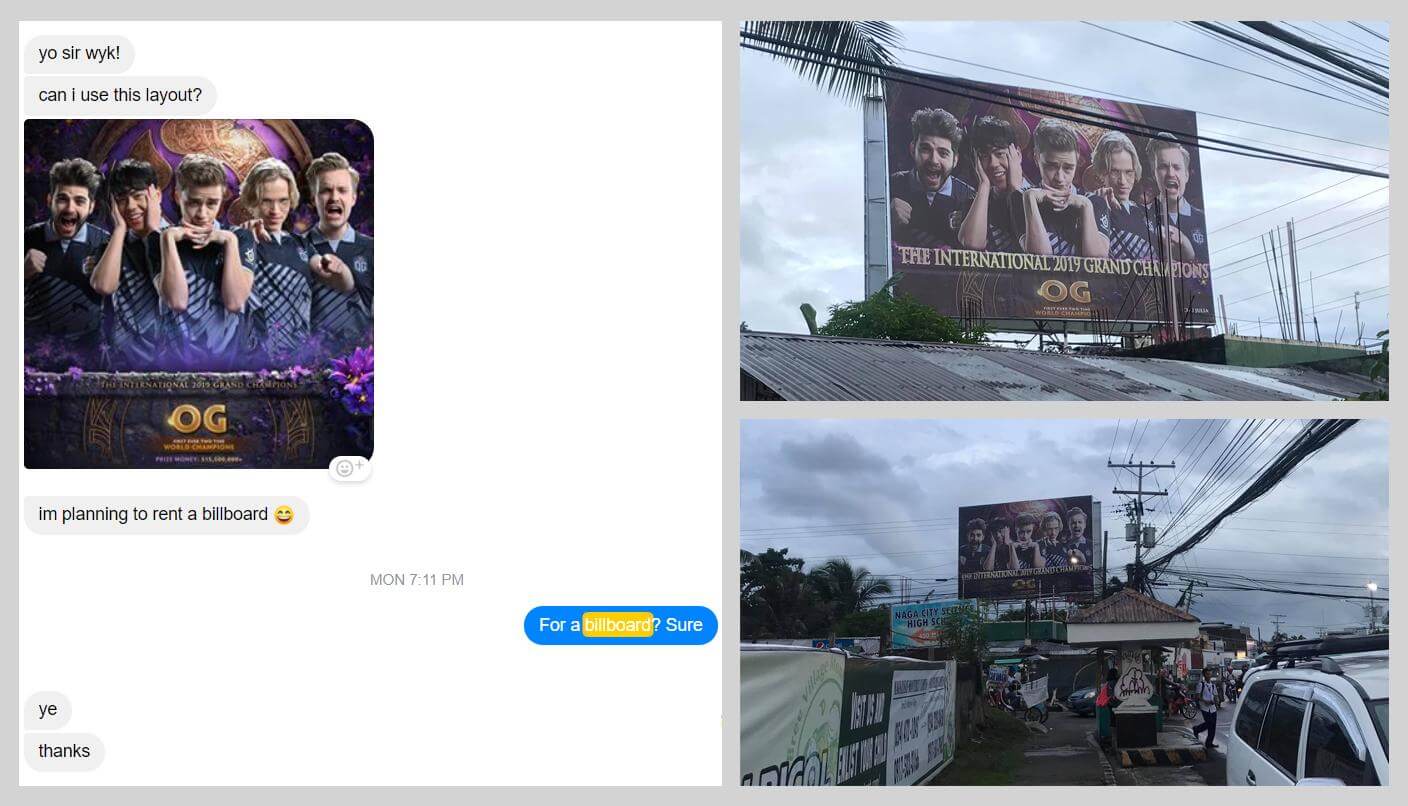 Mungkin kemenangan OG kedua kali ini menjadi sejarah baru bagi seluruh fans dan gua sendiri sebagai fans tim ini, walaupun bukan fans 'garis keras', cukup terhibur melihat hal ini dan jika dipikir-pikir kembali, harga untuk memasang billboard kan cukup tinggi, mungkin fansnya ini sudah kebanyakan uang.