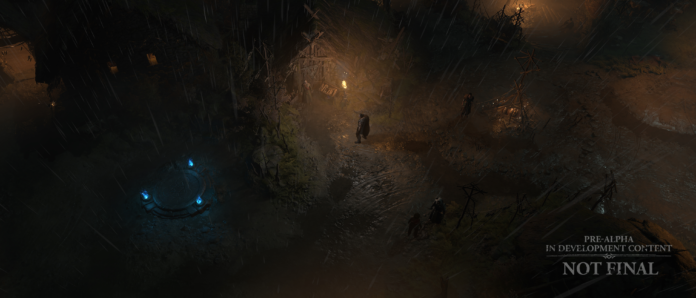 Melalui Diablo IV Quarterly Update di 2022, Blizzard merilis beberapa update dari proses development Diablo IV yang dirumorkan akan dirilis di tahun 2023.
Fokus di environment art yang kredibel ala Diablo
Quarterly update yang dirilis oleh Blizzard kali ini difokuskan di update kemajuan dari pembuatan environment art oleh Art Director Chris Ryder, Associate Art Director Brian Fletcher, Associate Lighting Director Ben Hutchings, Lead Exterior Artist Matt McDaid, dan Lead Props and Interactives Artist Chaz. Highlight dari fitur art ini merupakan visual yang immersif yang juga menimbulkan nostalgia penonton terhadap game Diablo terdahulu.
Mengedepankan art yang bertema dark gothic dan lekat dengan lore Diablo, Diablo IV berusaha untuk memilih artstyle yang lebih kredibel dibandingkan realistis, didukung dengan dua pilar fondasi artstyle yaitu "old masters" dan "return to darkness". Dengan kedua pilar ini, pemain bisa menikmati dunia yang bener-benar detail dan sesuai dengan situasi dan cerita yang sedang dialami pemain. Pencahayaan dan permainan cuaca juga menjadi faktor penting untuk membangun suasana yang gelap dan terlihat membahayakan.
Open world pertama di Diablo
Pertama kali dalam seri Diablo, Diablo IV nantinya akan memiliki fitur open world dengan lima zona menarik yang bisa kalian arungi. Dari padang rumut yang kering (Dry Steppes), pesisir Scosglen, hingga bukit bersalju yang telah dibuat sedetail mungkin oleh tim Diablo. Hal ini membuat pemain bisa merasakan perbedaan yang signifikan di tiap area dari properti yang bisa berinteraksi dengan pemain dan juga elemen hidup yang akan pemain temui. Terdapat pula lebih dari 150 random dungeon prosedural dan handcrafted oleh tim.
Kalian bisa melihat lebih detail kemajuan dari environment art diablo di blog Blizzard dan kita bisa mengantisipasi lebih banyak update di tahun 2022 ini.