SilverStone baru saja merilis casing Mini-ITX terbarunya yaitu SG-14 (SUGO 14). Casing ini nantinya akan melengkapi line-up Mini-ITX dari SilverStone setelah sebelumnya sukses dengan SG-13.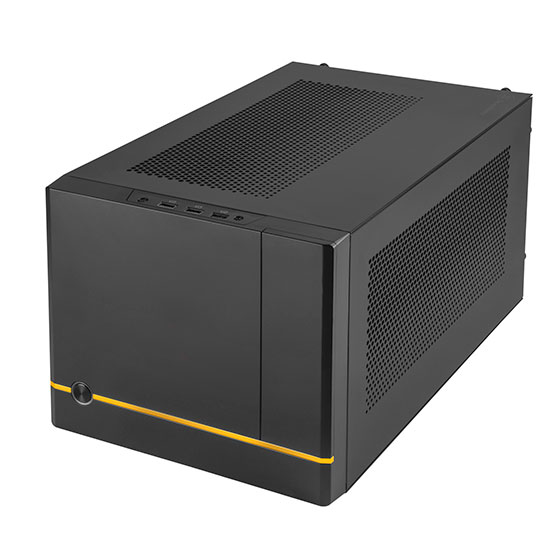 Yang menjadi nilai jual dari casing ini sendiri tentunya dari compability hardware yang lebih luas, karena casing ini bisa memuat hingga radiator berukuran 240mm dan support VGA card sepanjang 330mm dengan total 6 konfigurasi.
Berikut spesifikasi lengkap dari SilverStone SG-14 atau SUGO 14 ini :
Model No.
SST-SG14B
Material
Plastic front panel, steel body
Motherboard
Mini-DTX, Mini-ITX
Drive bay
External
5.25″ x 1 (without radiator and 3.5″ x 1 installed)
Internal
3.5″ x 2 (without radiator and 5.25″ installed)
2.5″ x 3
Cooling system
Front
—
Rear
120mm / 140mm x 1 (120mm black fan x 1 included)
Side
120mm / 140mm x 2
Top
—
Bottom
—
Internal
—
Radiator support
Front
—
Rear
120mm
Side
120mm / 240mm
Bottom
—
Expansion slot
3
Front I/O port
USB 3.0 x 2
USB 2.0 x 1
Combo audio x 1
Power supply
Standard PS2(ATX)
Limitation of VGA card
Length: 330mm
Width: 148mm
Limitation of CPU cooler
Air cooler: 182mm (without top fan)
240mm AIO water block: 55mm
Limitation of PSU
150mm
Net weight
4.89 kg
Dimension
247mm (W) x 215mm (H) x 368.1mm (D), 19.55 liters
9.72″ (W) x 8.46″ (H) x 14.49″ (D), 19.55 liters
Desain minimalis dan fungsional, ditambah dengan 6 konfigurasinya membuat casing ini sangat versitile dalam penggunaannya. Jadi apa kalian tertarik dengan SG-14 ini?