Salah satu game yang lagi ditunggu-tunggu oleh PC Gamers, adalah porting dari seri game RPG legendaris yang pada umumnya ditemukan secara exclusive di Playstation, sekarang bisa dinikmati di PC, yaitu Final Fantasy XV PC Version. Akan di release secara resmi pada tanggal 6 Maret 2018.
Pihak Jepang sepertinya sudah mulai merenggang untuk urusan exclusivity, dan melihat bahwa pasar PC cukup menjanjikan, seperti pendahulunya di porting FF7. Sekarang mereka merombak ulang semuanya, dan menambahkan berbagai fitur yang bisa memanfaatkan kemampuan PC sepenuhnya. Mulai dari physics engine, sampai 4K resolution dan Ultra HD Textures, dan yang terpenting di PC adalah tidak ada 30 FPS Lock.
APA YANG DIHARAPKAN DARI FINAL FANTASY XV PC?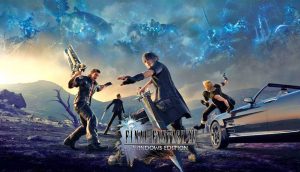 Yang udah pasti, kita bisa mengharapkan bahwa Final Fantasy XV akan menggunakan berbagai teknologi milik NVIDIA. Jadi di awal release, kita bisa memperkirakan bahwa hardware Nvidia akan jauh lebih optimized dari segi game dan driver dibandingkan dari AMD.
Kita juga dipastikan akan melihat fitur-fitur khusus milik Nvidia seperti semua yang ada di Gameworks. Diluar itu, kita dipastikan mendapatkan 60 fps di PC, mendapatkan Ultra HD Textures yang terpisah untuk download sizenya, dan kemampuan untuk 4K.
Kita bisa harapkan bahwa delay dan sekian lama waktu development adalah karena pertama isu exclusivity dan kedua waktu development porting. Seharusnya, performa Final Fantasy XV nanti di PC tidak akan banyak masalah dari segi performa karena memang memakan waktu development khusus dalam portingnya dan tidak terkesan tergesa-gesa.
Spesifikasi yang diperlukan untuk Final fantasy xv pc version
Cukup menarik melihatnya, dari spesifikasi yang diminta untuk recommended specsnya ternyata cukup rendah, yaitu :
Minimum Specs
Recommended Specs
4K HDR Specs
OS
Windows® 7 SP1/ Windows® 8.1 / Windows® 10 64-bit
Windows® 7 SP1/ Windows® 8.1 / Windows® 10 64-bit
Windows® 10 64-bit Fall Creators update
CPU
Intel® Core™ i5-2500(3.3GHz and above)
AMD FX™-6100 (3.3GHz and above)
Intel® Core™ i7-3770(3.4GHz and above)
AMD FX™-8350(4.0 GHz and above)
Intel® Core™ i7-7700 (3.6GHz and above)
AMD Ryzen™ 5 1600X (3.6GHz and above)
Graphics Card
NVIDIA® GeForce® GTX 760
NVIDIA® GeForce® GTX 1050
AMD Radeon™ R9 280
NVIDIA® GeForce® GTX 1060 6 GB VRAM
Radeon™ RX 480
NVIDIA® GeForce® GTX 1080 Ti
Main Memory
8GB
16GB
16GB
Screen Resolution
720p
1080p
4K(2160p)
Hard Disc Free Space on SSD
OVER 100GB
OVER 155GB
Sound Card
DirectSound® Sound Card, Windows Sonic or Dolby Atmos
DirectX®
DirectX 11
Other
DVD-ROM/DVD-ROM Drive*, mouse, keyboard, gamepad**
*A DVD-ROM Drive (one-sided 1 layer / 2 layer) is required
**Game is compatible with gamepad but not required
Gimana ? Apakah kabar baik untuk kalian ? Apakah PC kalian sudah siap memainkan game yang menjadi salah satu favorit gua tahun lalu ? Apa pendapat kalian tentang berita ini ?