2018 akan segera berakhir kurang dari 4 minggu lagi, ternyata Netflix masih menyiapkan banyak hal untuk mengakhir tahun ini dan salah satunya adalah Black Mirror Season 5. Black Mirror merupakan sebuah tv series yang memiliki plot yang tidak biasa baik dalam endingnya maupun jalan ceritanya. Sebut saja cerita tentang rating dari setiap orang yang akan menentukan fasilitas yang didapatkannya, game super realistis yang membuatmu terperangkap dalam game itu sendiri hingga troll internet yang membuatmu membunuh orang lain hanya karena kamu mereka tahu rahasiamu.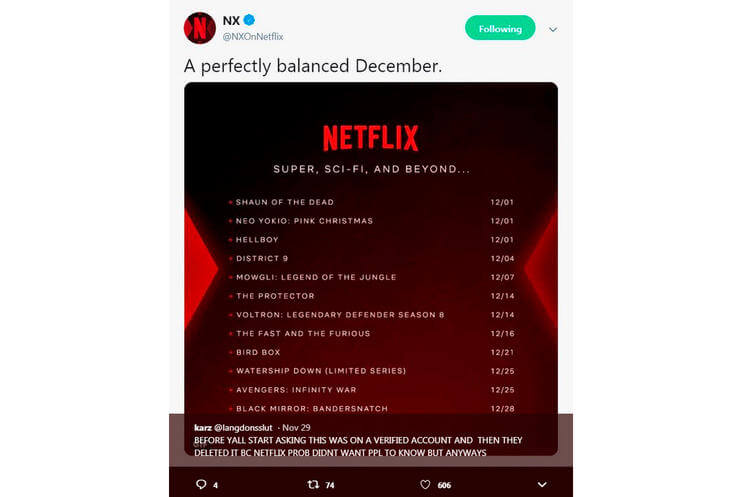 Hal tersebutlah yang menjadi daya tarik terbesar dari TV Series yang satu ini, wajar jika tanggal rilis dari Black Mirror Season 5 ini dinantikan oleh fans. Secara tidak sengaja akun @NXOnNetflix membocorkan tanggal rilis serta judul episode pertama dari season 5 tersebut yakni Bandersnatch pada tanggal 28 Desember 2018 mendatang.
@oliviat_93 Hi Olivia. Black Mirror is also filmed today and tomorrow at One Croydon. pic.twitter.com/aHkP25SOoX

— Boskee (@boskee_voitek) April 23, 2018
Entalah ada cerita apa yang terdapat pada episode Bandersnatch yang pasti gue sendiri tidak bisa memprediksi apa-apa karena cerita dari Black Mirror yang memang selalu out of the box.