Setelah lebih dari enam bulan lalu ia diumumkan melalui The International 8, akhirnya Mars datang menemani Zeus Sang Ayah yang sudah terlebih dahulu ada di Dota 2. Wow, apa saja skill yang dia miliki? Seperti apa lore dibalik hero yang juga merupakan dewa ini?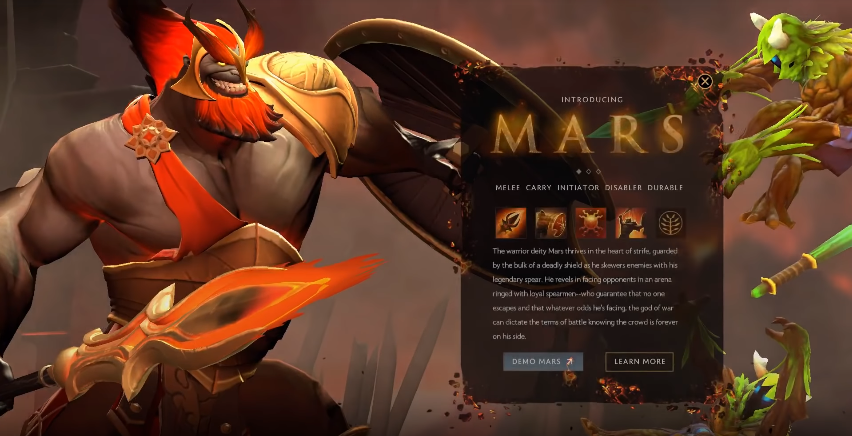 Mars Lore
Mars adalah anak dari dewa Zeus dimana ia selalu memimpin perang terus-menerus atas namanya. Namun suatu saat ia mencapai titik jenuh dan melirik War of The Ancients sebagai target baru tombak kebanggaanya. Yup kurang lebih hanya itu penjelasan yang diberikan valve untuk hero baru ini pada situs resmi Dota 2. Memang dalam Dota 2, lore dari para hero akan lebih terlihat saat kita memainkan hero tersebut dan melihat reaksi dan interaksinya dengan hero lain.
Mars Role
Mars ada di posisi Strength dengan posisi melee-carry-initiator-disabler-durable. Rolenya hampir mirip seperti Faceless Void atau Kunkka. Ia dianugrahi skill yang cukup OP (biasa hero baru, mari kita tunggu patch berikutnya kalau kamu selalu kalah saat melawan dia) . Skill satu miliknya adalah Spear of Mars, dimana ia akan melempar tombak panjangnya dan memberikan damage pada tiap unit yang dilewati tombak tersebut, jika unit yang ditargetnya adalah hero, hero pertama yang terkena tombak akan terseret ke belakang dan akan tertancap pada pohon (jika terdapat pohon dibelakang target). Sepertinya skill ini adalah gabungan dari skill satu dan skill dua dari Windranger. Skill kedua dari Mars adalah Gods Rebuke, dimana kali ini ia menghantam musuh dengan menggunakan shield Spartanya dan memberikan damage pada unit di depannya sebesar attack yang dimilikinya. Skill ini memiliki efek true strike, dan merupakan physical. Jadi gak bisa di-BKB yah. Skill ketiga sekaligus passivenya adalah Bulwark. Dimana ia menggunakan shieldnya untuk mem-blok serangan dari depan dan samping, dimana damage reductionnya jika terisi full adalah 70% untuk sisi depan dan 35% dari sisi samping. Lebih ngeselin dari Bristleback! Terakhir adalah ultimatenya yaitu Arena of Blood, dimana ia akan mensummon sebuah arena yang akan mengurung musuh didalamnya, dan jika musuh terlalu dekat dengan ujung arena, ia akan ditombak oleh pasukannya.
Langsung pake Rapier Buat Mars! Skill dua OP!