Jum'at (15/9) — Butuh gim co-op shooter buat main bareng-bareng temen kalian? Helldivers 2 mungkin bisa jadi pilihan yang tepat!
Simak trailer gameplay-nya di bawah!
Helldivers 2 Hadirkan Gameplay Melawan Alien Serangga Ala-ala Starship Troopers!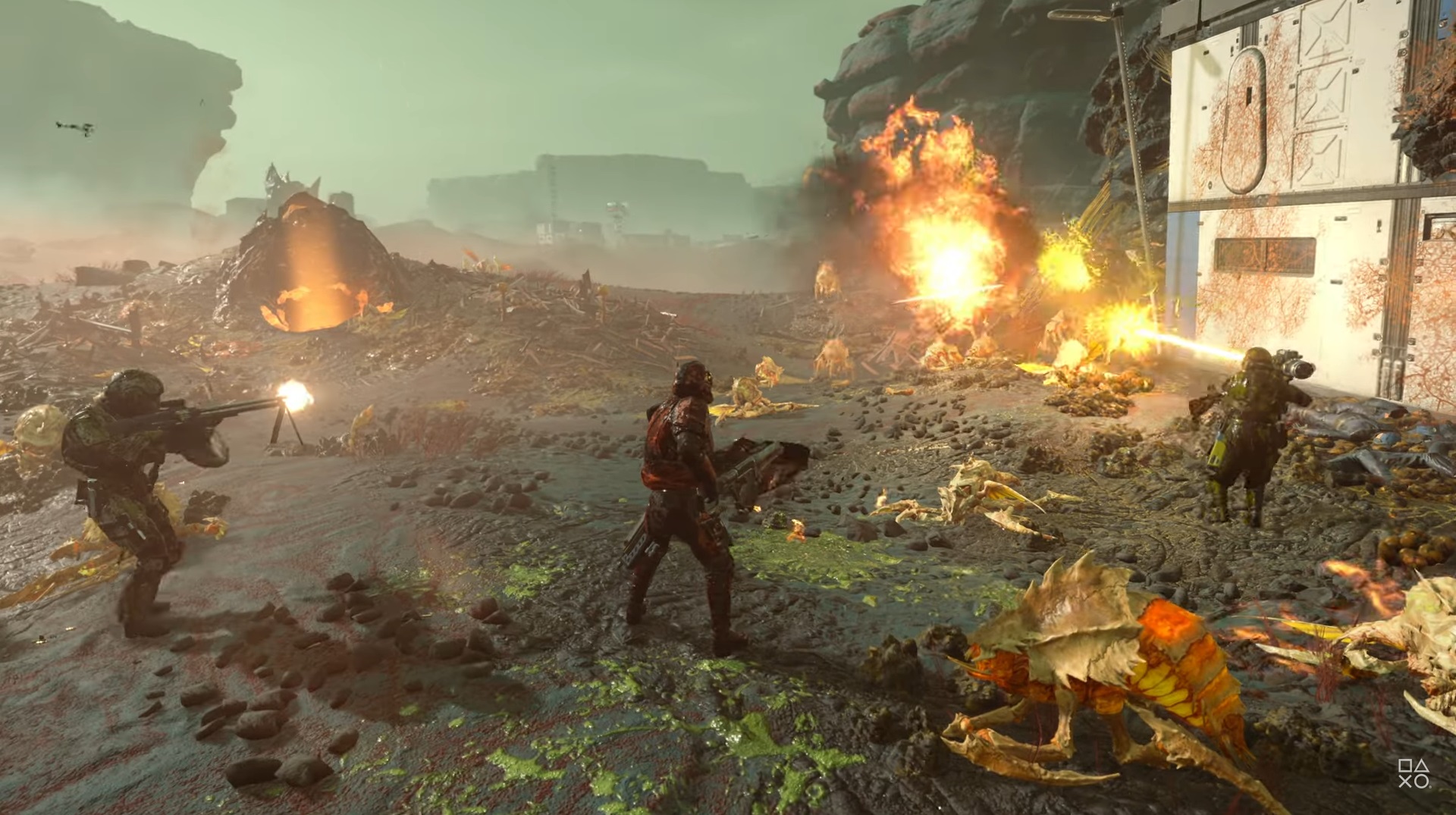 Nantinya kalian bisa membuat kelompok dengan tiga orang lain dalam sebuah sesi online co-op, di mana kalian akan mengeksplorasi planet-planet unik dan menyelesaikan tugas bersama-sama.
Tidak hanya itu saja, kalian juga bisa mengumpulkan sumber daya dari para alien dan digunakan untuk meningkatkan perlengkapan agar memudahkan proses penyerangan para alien di Helldivers 2.
Dapatkan Berbagai Macam Bonus dari Edisi Super Citizen!
Selain beberapa hadiah di atas, kalian juga akan mendapatkan status Super Citizen dan sebuah tambahan minigames, Stratagem Hero, untuk kapal kalian. Kalian juga akan mendapatkan konten Premium Warbond untuk para pemain veteran.
Bagi kalian yang berminat untuk melakuka pre-order, kalian akan mendapatkan beberapa bonus, yakni:
TR-7 Ambassador of the Brand – sebuah baju besi promosional untuk para fans frozen yogurt milik SUMY Corp's.
TR-62 Knight – sebuah baju besi untuk memberikan keadilan pada gelapnya galaksi.
TR-9 Cavalier of Democracy – Pengguna baju besi ini tidak membutuhkan kendaraan. karena lebih banyak bertarung di udara.
Kalian bisa mulai pre-order edisi Standar dan Super Citizen mulai 22 September 2023. Sedangkan gimnya baru akan dirilis pada 8 Februari 2024 untuk PlayStation 5 dan PC.
Gimana pendapat kalian tentang gim ini? Sudah siap terjun ke neraka?
Informasi selengkapnya terkait gim ini silakan kunjungi:
Website